SAMURAI RIDES: BACK ON THE ROADS OF GEORGIA w/ the MAZDA CX-9 FOR NOMADNESS REUNION WEEKEND

#SamuraiRides #DriveMazda
To say that time flies is a grand understatement but in this case you'll get no complaints from me. One of my favorite times of the year just finished. The 5th Annual Nomadness Summer BBQ, now known as Reunion Weekend went down amazingly in the Atlanta area. While it's always a hectic time for me, I enjoy the fact that I move about town in style thanks to Mazda, For the 2nd year in a row It's me and the Mazda CX taking care of the business at hand. Last year it was the CX-5. This summer it's the 2016 CX-9 Signature AWD edition.
Summer time travel is the season of all carry-on bags. Without the need to wait on checked luggage, I hopped off my flight and made my way through Atlanta's Hartsfield-Jackson International airport to my vehicle pick up location. I rarely know the color of the ride I'm getting so when this gorgeous Metallic Gray  SUV rolled up I was delighted.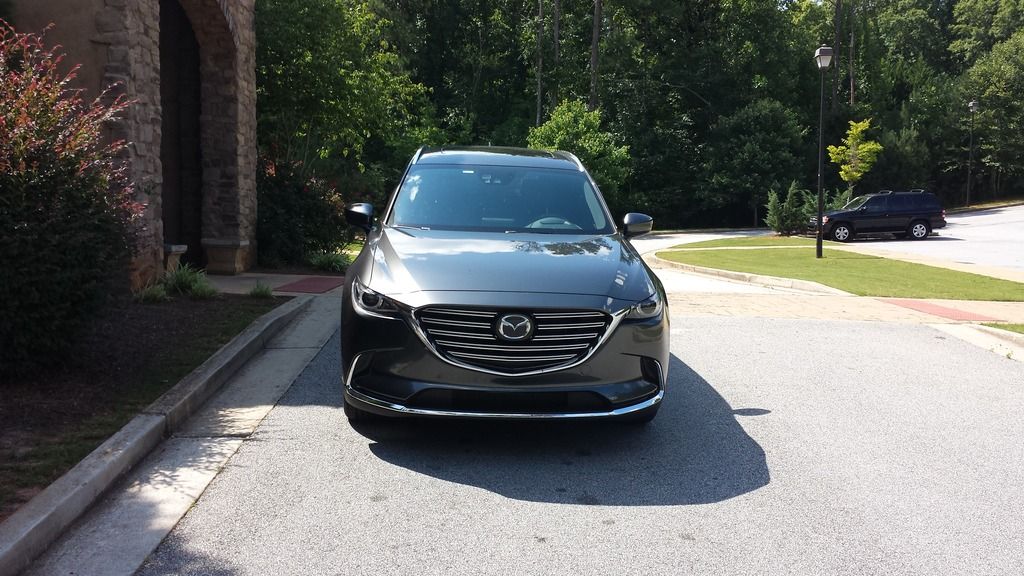 Hit the jump for the full review.
From the airport I had a brief period of down time before meeting with my business team. It was the perfect time to open the roof and head downtown to get a haircut at A-Town Barber shop. It's become a bit of tradition that I visit A-Town to get fresh before the festivities begin.
Once I've got my self looking decent I decided to swing by Atlantic Station for a little friendly reunion and then commence with business.
The reason I love the CX series from Mazda is that it looks so smooth and sleek but it provides the cargo space that ALWAYS ends up being needed for this event. So when a last minute venue issue arises resulting in a late night pick up of nearly 200 champagne bottles, guess what vehicle came through with room to spare? Just look below.
Fortunately that was the bulk of the heavy lifting for the weekend. The remainder of the time was open roads, summer heat, music and good times with my Nomadness familia. I've danced with last year's CX-9 so I knew to expect the navigation system would hold me down getting to this years more remote location. I knew that the AMG Signature model CX-9 would have the most gorgeous leather interior, Nappa leather in this case. I looked forward to the sound system which lets loose 12 speakers worth of crisp, clean audio pleasure. Not to mention the driver considerate Commander control knob that keeps eyes on the road while controlling all the CX-9's tech features via MAZDA CONNECT™5.  
Curious what some of  those features are? Here's a short list and let's just say you'll never be bored.
• Pandora® Internet Radio integration
• Available Mazda Navigation System
• HD Radio™
• Bluetooth® Audio Streaming6
• Stitcher™ Internet Radio integration
• Social media connectivity
• Aha™ Internet Radio integration
• SMS Text Response
• Radio Broadcast Data System program information
• Available SiriusXM Satellite Radio7
I didn't know until after my time with it that Mazda debuted their new SKYACTIV®1G 2.5-liter turbocharged engine in the CX-9. That explained the lack "lag," when I gave the whip a little push on this 65 mph roads.
The only downside of this experience that even an extended weekend ends far too quickly. Soon as I turned around it time to head back up north. All that power and automotive style had to be returned. Well, if anything comes from this I hope anyone looking for a crossover SUV makes the Mazda CX-9 a serious contender for their next purchase. I'll be looking forward to the next time I get behind that Mazda steering wheel.